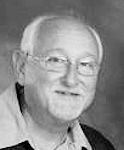 Turner Michael Robert
Michael Robert Turner, 68, Emporia, Kansas, passed away at his home surrounded by family on Monday, December 3, 2012.
Michael was born May 8, 1944 in Emporia, the son of Walter Robert and Mary Catherine (Hotzel) Turner. He married Judith (Judy) Ann Johnson in Salina, Kansas on September 16, 1978.
Michael attended Sacred Heart Catholic School and was a graduate of Emporia High School. Following graduation, he entered the United States Army. He was stationed at Nike Missile Base in Gardner, Kansas, and in Alaska as a radar technician. He had been employed at Stanion Wholesale Electric for 35 years, having retired in 2010.
Michael's life revolved around his wife, his boys, and their activities. He served as a coach for Brian's soccer and baseball teams, and was a supporter of American Legion baseball. He served as an Assistant Scout Master with Boy Scout Troop #165 while Alex was in scouting.
He enjoyed woodworking and craftsmanship, and was happiest outdoors, either hiking with his brothers, playing with his beagle, Tanner, or going to Wichita Wingnuts games. He loved watching KU Basketball, cruising the back roads in his Jeep, and going to the casino with his wife, Judy.
Surviving Michael are his wife; two sons, Brian, and his wife, Lisa, of Wichita, and Alex of Emporia; three brothers, Roger, and wife, Marilyn, Olathe, Kansas, Terry, and wife, Delores, and Steven, and wife, Susan, of Emporia; and a sister, Mary Susan Cocca of California.
He was preceded in death by his parents, and a brother, Donald Robert.
Funeral services will be held at St. Mark's Lutheran Church, Emporia, on Friday, December 7, 2012, at 10:30 A.M., conducted by Pastor John Davis, of the church, and Rev. Ashley Masoni, Chaplain, University of Kansas Hospital, Kansas City. Interment will follow at the Sacred Heart Cemetery.
The family will receive friends at St. Mark's Church ~ 1508 W. 12th ~ Thursday evening, December 6, 2012 from 6:00 until 8:00 P.M. Memorial contributions to Emporia Friends of the Zoo, or St. Mark's Lutheran Church may be sent in care of the funeral home.
Michael Turner was an amazing husband, father, and friend. He will be missed by many.
Emporia, Ks Roberts-Blue-Barnett Fumeral Home website
Return to top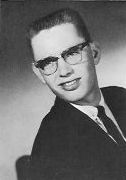 Selby, Jon Lee

Jon Lee Selby, 69, of Kingsland went to be with his Lord and Savior, Jesus Christ, June 29, 2013. He was born to Garland F. and Edna Mae [Lutz] Selby on December 23, 1943 in Kansas City, Missouri.

Jon and Barbara [Grimes] had been friends since fourth grade. They were married April 4, 1965 in Emporia, Kansas. Jon's vocation was being a railroad transportation specialist. They moved to Kingsland, Texas in June 1994 from Stillwell, Kansas and established a business in the transportation profession. As of 2001, he and Barbara opened a fabric store known as Barb's Quilt Nook. They both shared tasks there and traveled as vendors in quilt shows throughout the states. Jon was a member of the Hill Country Fellowship Church in Burnet, past director of the Kingsland Lake LBJ Chamber of Commerce and a board member in the Kingsland Community Center . Jon loved being a public servant to many people and groups in the Highland Lakes area.

Jon is survived by his wife of 48 years, Barbara K. Selby of Kingsland, Texas, son, Michael Lee Selby of San Antonio, Texas, son and daughter-in-law, Mark Anthony and Kelly Selby of Katy, Texas, four grandchildren also survive.

He was preceded in death by daughters, Christine Ranae and Kimberly Kay Selby and a brother, Stephen Selby.

Celebration of life services will be held at the Hill Country Fellowship Church 200 Houston Clinton Drive, Burnet, Texas on Saturday, July 20th at 10:00 am. Private inurnment will be held at a later date in Aubry Township Cemetery, Stillwell, Kansas. An online guest register may be signed at www.PutnamCares.com.

Memorial contributions may be sent in Jon's memory to Newcomers Group P.O.Box 868, Kingsland, Texas 78639.

Cremation arrangements made by Putnam Funeral Home 145 Texas Avenue, Kingsland, Texas 78639 [325] 388-0008
Kingsland, TX. Putman Funeral Home website

Gray, Gaylynn

(November 8, 1944 - August 11, 2013)

Gaylynn Dickey passed away Sunday August 11, 2013 at a Topeka care facility with family present. Gaylynn was born November 8, 1944 in Ardmore Ok, the daughter of Fern and Sam Gray who preceded her in death. She was also preceded in death by two husbands Larry Karns and Ray Dickey.

Gaylynn loved to fish, camp and read. She loved animals and treated her pets as children. She also spent her retirement years traveling with her husband Ray.

Gaylynn is survived by her son R. Darrick Karns, Daughter in law Margaret Karns, two grandsons Darrick Karns and Sam Karns. Two brothers Gerry Gray and Geoff Gray and their wives Mary Gray and Barb Gray. Three nieces Jennifer Gray, Shelia Henderson and Hanna Gray. One great niece Alora Henderson and two great nephews Asher Henderson and Vincent Holland and several cousins. Gaylynn loved all her family deeply. Services are scheduled for Saturday August 17, 20013 at 5:00 PM at the Davidson Funeral Home located at 1035 N. Kansas Ave, Topeka Ks. Monetary donations can be given to the family.
Topeka, KS.Davidson Funeral Home website
Return to top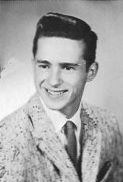 Green, Gerald
(January 24, 1943 - February 7, 2014)
Gerald W. Green, 71 Emporia, Kansas, passed away at his home on Friday February 7, 2014
Gerald William Green was born in Emporia on January 24, 1943. the son of Charles William and Adella (Wolcott) Green
Mr. Green is survived by his daughter, Jennifer Jo Salb, Sand Springs, Oklahoma; son, Eric William Green, Olathe, Kansas; sister, Betty Steele, Topeka, Kansas; and grandchildren, Cara Lea and Joy Sslb, and Xander Garrell and Khloe Grace Green.
His parents died earlier.
Throughout Mr. Green's working career, he was employed with Guys Foods Incorporated, Dolly Madison, and Glendo Corporation. He retired in 2009.
He was a veteran of the United States Navy, serving during the Vietnam Conflict on the USS Canberra. Mr Green was a member of both the American Legion and Veterans of Foreign Wars.
Creamation is planned. Private family inturnment services will be held at Memorial Lawn Cemetery, Emporia, at a later date.
Emporia, Ks Roberts-Blue-Barnett Fumeral Home website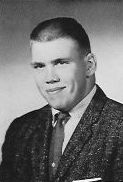 Childears, Dwight James
North Highlands, CA
Dwight "Ike" James Childears of North Highlands, California, died January 1, 2015 at his home. He was 71.
No services are planned. East Lawn Memorial Cemetery of Sacramento has the arrangements.
Emporia, Ks Gazette Jan.07,2015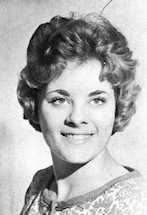 Shirley Ann White Messerschmidt
January 20, 1944 - May 26, 2015
Shirley Ann White Messerschmidt, 71, passed away Tuesday morning, May 26, 2015 in Gardner, Kansas. Funeral services will be at 10am Monday, June 1, 2015 at McGilley & Frye Funeral Home, 105 E. Loula St., Olathe, KS, with burial following at Olathe Memorial Cemetery. Visitation will be from 2-4pm., Sunday, May 31st at the funeral home. In lieu of flowers, memorial contributions may be made to the American Diabetes Association , the American Heart Association or to Alphapointe.(www.alphapointe.org)
Shirley was born on January 20, 1944 in San Francisco, California, the child of Mildred B. Ellis and Raymond Woodrow White. She married Delbert William Messerschmidt on June 2, 1962, in Emporia, Kansas. Shirley previously worked as a cashier at Price Chopper before retiring.
She is survived by three children, Deanna Messerschmidt and Kimberly Geiss of Gardner and David Messerschmidt of Olathe, 6 grandchildren and 5 great-grandchildren. Send tributes and condolences at McGilley-Frye.com
Olathe, KS McGilley & Frye Funeral Home & Cremation Service website
Ken Calhoun
Former Emporian Ken Calhoun died at his home Friday after a battle with cancer. Calhoun wore many hats and over the years helped to make Emporia a better place.
Calhoun began his career in Emporia at Newman's Department Store, which his family had owned for decades. Newman had been a one-stop shopping center for the town. Everything from home needs such as linens, men's and women's clothing, jewelry, cosmetics and children's clothing were available.
As a young business owner, he helped start Project Pride, an effort by business owners to focus on building beautification in downtown Emporia. Former Emporia Chamber of Commerce Manager James DeMarco credits Calhoun's work as head of the Beautification Committee with getting Project Pride underway.
" He did an excellent job," DeMarco said at that time. "They assigned him the task of getting the project going. He really ran with it."
Virgil Basgall served as city manager at that time and called Calhoun's success with the project miraculous.
"I didn't believe it could be done," Basgall said at the time. "But Kenneth Calhoun took the petitions out and got signatures from 70 percent of the owners in only 72 hours over a period of three working days."
Calhoun not only sold merchants on the idea that they should share the cost of downtown improvement programs but he also helped with the design of the project.
Newman's Department Store was operated by Calhoun for 33 years. The store closed when the building owner made the decision to not renew the lease.
Calhoun became director of the Emporia Community Foundation in 2000 and retired in 2013. During his 12-year stint, the Foundation's assets grew from $1.7 million, contained primarily in one fund to $12 million spread across 80-plus funds.
At the time of his retirement from the Foundation, he reflected on the rewards he received from the position, most notably being able to support community charities.
"It's been fun, doing something that I want to do," Calhoun said in his retirement interview. "It's been rewarding matching donors with charities that they want to support. That part's rewarding, I think."
The effort that Calhoun made in growing the foundation will leave a mark on the community well into the future.
" The whole concept of the Foundation is that 50 years from now, there'll be enough money to take care of the charitable needs of the community — and we don't even know what they will be," Calhoun said at his retirement.
Future generations of Emporians will benefit from the work that Calhoun did during his time at the Emporia Community Foundation.
Paul DeBauge was friends with Calhoun most of his life. They met through their parents, spent time at KU together and also lived next door to each other for about 20 years. DeBauge said Calhoun was a very dedicated community member.
"Ken was really committed to an awful lot of community and non-profit activities in Emporia for years and was instrumental in the management of the (Lake) Kahola board and the community foundation, and he was very active in Chamber work," DeBauge said. "Ken was always a tickle to work with. He was a real nitpicker on policy and I would call him a gadfly. When he was working with an organization, it was important to him what the goals were and what the purpose of the organization was and that they followed it — that they followed their bylaws and that they were able to function through policy."
DeBauge said he enjoyed working with Calhoun on boards and policies.
"He was a hoot working on those things because it was very important to him (and) because it was very important to an organization," DeBauge said. "Because you have somebody watching those kinds of things and wherever he was involved that was Kenny."
DeBauge recalled Calhoun's sense of humor.
"He had a very dry wit," he said. "Probably everybody didn't have an affinity for that. Some people were probably confused by it, I think. It was there. It was just part of him. I always got a kick out of his perspective on things. He was opinionated and he had a lot of fun with his wit."
Calhoun was dedicated to every community he lived in, DeBauge said.
"He moved to Lawrence almost three years ago. And he got deeply involved in everything immediately up here, too," he said. "When he decided to move up here his health was not good and I think that was a part of why he moved, but he got very involved in the community. ... probably his overriding feature the last four or five years, he's been fighting cancer quite a while. You would have never known it. He was very active."
DeBauge said they were close friends; Calhoun rarely showed signs of his illness and he led an active life despite his fight with cancer.
"He and I were very close friends," he said. "But we very seldom talked about his illness. In that context, every now and then you could tell it was affecting him, toward the end, and he fought considerable pain, but he stayed very active. Matter of fact, I was concerned about some of the golfing. We had a very hot day late August, and he played 18 holes and I think it was 100 degrees out there. … He persisted and he wanted to live his life fully right to the end and there was never a whine out of him about the fight he was fighting."
"Ken was a real good Emporian, a real good friend," DeBauge said. "Ken was a very good person. He worked for the betterment of his community and not for himself. He spent an awful lot of time on noncompensatory activities for the community, both in Emporia and Lawrence."
Mark McAnarney, Emporia city manager, echoed what DeBauge said. He said Calhoun was a fun and witty person who challenged the community to constantly strive to be better, and Emporia wouldn't be what it is today without him.
Calhoun and his wife Judy were known for taking annual trips to Bonaire, a Dutch Caribbean Island that was a favorite destination for them. They have two daughters, Stephani Davis and Melissa "Missy" Sottoway.
Funeral arrangements are pending and will be announced by Rumsey-Yost Funeral Home.
Emporia Gazette Oct 12, 2015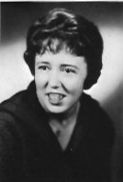 Glenda Jane Wilson Bachar
(June 1, 1943 - October 31, 2015)
Glenda Jane Bachar, 72, of Emporia, died Saturday, October 31, 2015 at Holiday Resort in Emporia.
Glenda was born on June 1, 1943 in Newton, Kansas, the daughter of Glenn and Winifred Walker Wilson. She married Austin D. Bachar on May 31, 1974 in Leavenworth, Kansas. He died on July 1, 2015 in Emporia.
Family members include: stepson, John Bachar of Phoenix, Arizona; stepdaughter, Karen Bachar of Washington, D.C.; brothers, Edward Wilson of Topeka, and Sam Wilson of Dallas, Texas; sisters, Margaret Vogts of Olpe, Alice Bliss of Emporia, Mary Etta Zinn of Topeka, and Jo Ruiz of Fairborn, Ohio; and two step-grandchildren.
She is preceded in death by her husband; parents; stepson, Murry Bachar; and brother, Joe Mac Wilson.
Glenda was a homemaker and was a former member of the First Congregational Church in Emporia.
Cremation is planned, with a memorial service at 11:00 A.M., Saturday, November 21, 2015 at Victory Fellowship Church, Emporia.
Memorial contributions to Emporia Friends of the Zoo may be sent in care of the funeral home.
Emporia, Ks Roberts-Blue-Barnett Fumeral Home website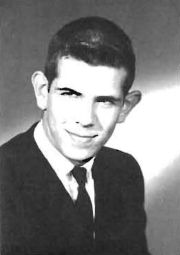 Richard E. Krueger
Richard E. Krueger, 71, of Emporia, died Friday, October 23, 2015 at home where he lived with his faithful dog, Bear.
Richard was born on July 7, 1944 in Emporia, Kansas, the son of John W. and Lucille Krueger.
Surviving family members include, son, Zachary; brother, Eugene, Mesa, Arizona; two sisters, Marilea Schmidt of Olpe, Kansas and Rosilea Metcalf of Emporia, Kansas; and many nieces and nephews.
He was preceded in death by his parents; and brothers, John W. Jr., Joseph L. and Donald L.
Richard served in the U.S. Army. He was a graduate of DeVry Institute and worked for the Santa Fe Railroad. He also worked as a painter and concrete worker in his spare time. He owned and operated the Uniform Connection. He worked the past year as the maintenance man for the Plumb Place. Richard will be remembered for his generosity as well as his thoughtfulness and caring for others.
Memorial contributions may be sent to Plumb Place, 224 East 6th, Emporia, KS or Hand in Hand Hospice, 1201 West 12th Ave., Emporia, KS.
Condolences may be sent to Lauralee Hearn, 1317 Woodland, Emporia, KS 66801.
Cremation has taken place and there are no formal services planned.
Emporia, KS Gazette 10 Nov. 2015
Return to top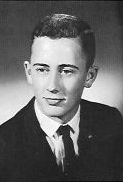 Dennis Kelly

Died November 22,2015

Notes compiled from former classmates John Evens and Connie Leonhart Beck;

In High School Dennis was an over-achiever, just look at all the credits under his picture in the yearbook. He was most proud of 'lettering' in debate. After High School he went to Louisiana, where his father lived and took a B.S. degree from Louisiana State. His real interest was literature and latter felt he should have studied Library Science at E.S.T.C .

He migrated to Seattle Washington to be with his partner Frank in a bungalow on Lake Washington. He and Frank were together 25 years. Frank died about 10 years before Dennis who died in November of 2015 .

Dennis was proud of his erotic poetry which was published by the Gay Sunshine Press in San Francisco. his work is autobiographical dealing with his love/hate relationship with Emporia. 'Mary White', 'Prairie Stories', and 'Escape from Emporia' are examples.

One reviewer said: "Dennis Kelly is and accomplished modern stylist. I hear his original hearty voice in poems that are close to everyday speech. He speaks with a radiant new tongue which expresses a wide range of experience."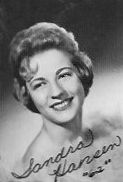 Sandra Hansen Wilhite

Sandra Wilhite passed away December 14, 2015.

Born October 9, 1944 in Kansas City, Missouri to Charles A. and Clara J. Hansen. Sandra married Robert (Bob) Wilhite on June 30, 1962 in Cottonwood Falls, KS. He survives as do three sons: Todd (Kelli) Wilhite, Scottsdale, AZ, Scott (Amy) Wilhite, Crestline, CA and Brad (Sarah) Wilhite, Corona, CA; nine grandchildren, Shawn and Kaitlyn, Macy, Kyle, Avery, Natalie and Mark, Kendall and Camryn; plus three great-grandchildren, Holden, Mercy and Caden. Also surviving are three brothers: Bob Hansen, Weaverville, CA, Gary Hansen, Queen Creek, AZ and Gerard Hansen, Emporia, KS. Her father and mother preceded her in death.

Mrs. Wilhite graduated from Emporia High School and from Riverside Community College (with honors) earning degrees in Business and Medical Transcription. Over the years, she was a full-time mother while holding various office and secretarial positions in three Fortune 500 companies prior to becoming a medical transcriptionist in 1992.

In lieu of flowers, a memorial fund (Sandy's Camp Fund) for youth summer camp scholarships has been established at Victory Fellowship Foursquare Church in Emporia, KS (620) 342-3676.

A celebration of her life will be held on Saturday, January 9th at 1:00pm, Twin Peaks Community Church, 26032 CA-189, Twin Peaks, CA 92391.
Emporia, KSGazette December 21, 2015
Return to top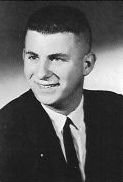 Norman R Thomas

Norman R. Thomas, 72, of Emporia, Kansas died Saturday, January 23, 2016 at Flint Hills Care Center in Emporia.

Norman was born January 4, 1944 in Emporia, Kansas the son of Russel H. and Dorothy J. (Hotzel) Thomas. He retired from law enforcement in March of 1987 after serving 22 years with the Emporia Police Department.

Norman married Phillis J. Hamilton on May 1, 1999. She died November 17, 2013. He is survived by a son, Brian R. Thomas and wife Jennifer of Emporia; daughter, Shelli R. Thomas of Wichita; sister-in-law, Sherry L. Thomas of Buena Vista, Colorado; and grandchildren, Breanna Voorhees, Ashlyn Voorhees, Kaylee Thomas, Nathan Thomas and Jordan Thomas. Norman was preceded in death by his parents; his wife; and a brother, Dr. Warren R. Thomas.

Cremation is planned. Services will be held at a later date.

Memorial contributions may be made to; Hand-In-Hand Hospice and sent in care of Roberts-Blue-Barnett Funeral Home.

Online condolences may be made thru: www.robertsblue.com.
Emporia, KS Gazette 26 Jan. 2016
---
Direct all comments and questions concerning this page to danny@clemmer.org